The Company has implemented annual risk assessment and reported to the Board of Directors since 2018, and the Risk Management Policies and Procedures was established with the approval of the Board of Directors in 2021. The Risk Management Team gathers representatives from functional units to evaluate, screen and select significant risks each year, compile and analyze the statistical results and report them to the management meeting. The unit responsible for the risk will report the countermeasures for discussion. Countermeasures approved by the management meeting will then be reported to the Board of Directors by the Chairman Office. The scope of risk identification includes strategic planning, operational management, information technology, human resources, financial operations, and other issues. From 2022 onward, separate assessments will be conducted on the issues of information security, environmental sustainability, climate risk, and human resources with an aim to discuss the respective response and optimization measures.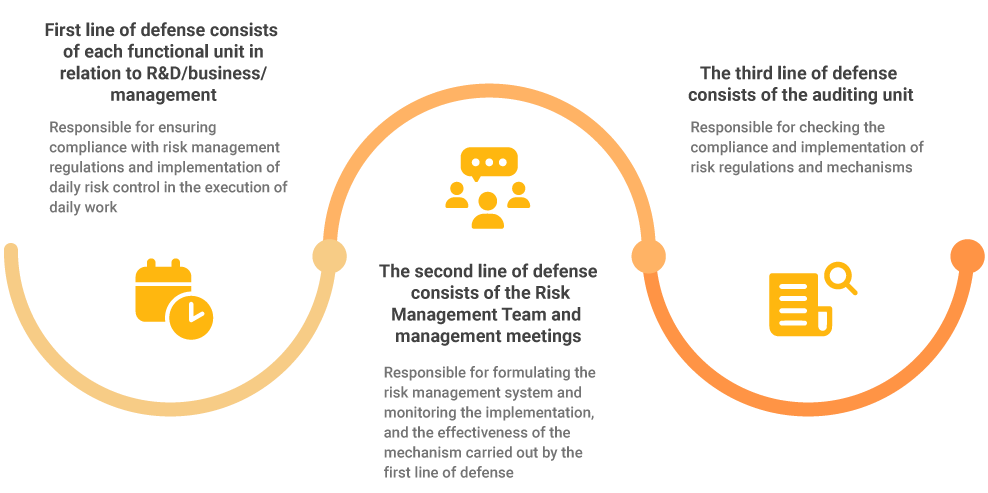 Corporate governance
Information system risk: such as responding to major issues of information security protection.
Risk of market changes: due to international political factors, changes in wafer supply and demand, etc., supply and demand have become more unstable, and it is planned to strengthen the relationship with customers and the supply chain.
Social prosperity
Capacity response and supply chain relationship risk: maintain interaction with suppliers; keep abreast of market trends and grasp changes in supply and demand. Internally share market dynamics in a timely manner, and implement a reporting mechanism for relevant meetings. Regularly and irregularly meet and interact with suppliers to communicate with each other on production capacity, product quality, delivery date, etc.
Customer service and relationship risk: maintain interaction with customers; the customer service team has full-time business, product application engineering, quality assurance and other colleagues to provide services.
Talent retention risk: Continuously improve employee benefits, share company operating performance, establish multiple communication channels, offer various education and training, participate in project work, and be ready to cultivate appropriate talents at any time.
Sustainable environment
Environmental protection risks: Due to compliance with SDGs, product specification formulation and technological breakthroughs are strengthened to develop ICs with lower energy consumption and smaller wafer sizes.
Climate change risk opportunities and responses: such as climate change risk opportunities and responses explain responses.