The Company has implemented annual risk assessment and reported to the Board of Directors since 2018, and the Risk Management Policies and Procedures was established with the approval of the Board of Directors in 2021. The Risk Management Team gathers representatives from functional units to evaluate, screen and select significant risks each year, compile and analyze the statistical results and report them to the management meeting. The unit responsible for the risk will report the countermeasures for discussion. Countermeasures approved by the management meeting will then be reported to the Board of Directors by the Chairman Office. The scope of risk identification includes strategic planning, operational management, information technology, human resources, financial operations, and other issues. From 2022 onward, separate assessments will be conducted on the issues of information security, environmental sustainability, climate risk, and human resources with an aim to discuss the respective response and optimization measures.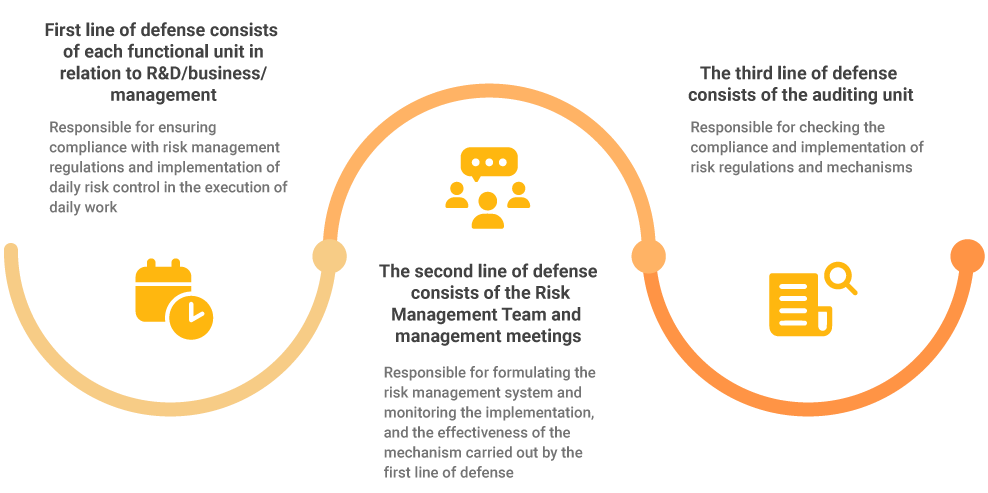 Human resources risks:
In response to the competition for talents from technology companies, the Company has taken more proactive measures since 2021, including salary adjustment, increases to the bonus ratio, employee benefits (meals, activities, health and stress relief, etc.), and increased industryacademia cooperation with universities to jointly develop projects and an internship system, and to offer scholarships.
Market risks:
Due to international political factors and changes in wafer supply and demand, the supply and demand of wafer will become increasingly unstable. In this regard, the Company intends to strengthen its relationship with customers and the supply chain.
Information system risks:
Such as response to major issues of information security.
Environmental protection:
To comply with the SDGs, the Company will strengthen product specifications and technological breakthroughs in order to develop ICs with lower power consumption and smaller wafer size so as to reduce the impact on the environment.